Upcoming house concerts:
Fill out our contact form to reserve your seats
Wendell and Wheat - January 27, 2018 8PM (Doors open at 7PM) Tickets $25
Katherine Wheatley's heartfelt lyrics and stunning voice and Wendell Ferguson's honest yet irreverent humor make their show both moving and hilarious. One presenter said "An absolutely transcendent concert". Another said "She didn't leave a dry eye in the house. He didn't leave a dry seat". Six time CCMA Guitar Player of the Year, Wendell Ferguson has traveled the globe and accompanied a veritable who's who in both the country field - (George Fox, Duane Steele, Tommy Hunter, Shania Twain, The Dixie Chicks) and the folk arena - (Gordon Lightfoot, Quartette, Bob Snider, Cindy Church). He is one of the best loved and most respected guitar players in Canada. Katherine Wheatley is able to take minor observations in life and find their soul. On stage...she exudes sheer kindness and love. As well as touring extensively, she has written music for film and television documentaries and has been a musical guest on many shows, including CTV's Canada AM and CBC Radio's Vinyl Cafe. Blessedly, refreshingly, Katherine Wheatley is a truly Canadian original". According to Warren Footz of SEE Magazine "...man, can this serene red head ever play guitar". We are so excited to have Katherine back again and this time with her musical pal, Wendell.


---
EyeTunes Concert in Support of CNIB - Friday, March 2, 2018 8PM (Doors open at 7PM) Tickets $25
Once again, we continue our annual tradition of gathering great local musicians together to donate their time and talent to raising funds to support CNIB in their efforts to provide programs for people with vision loss in our community. Your hostess with the mostest, Patty McLaughlin and friends, Brian Colborne, Paul Snelgrove, Ginny Clements, John Savage and Ken Allen will perform. And the wonderful, Angie Nussey will return for her fourth visit here. She's funny, inspirational and a great singer-songwriter as you already know if you've ever seen her. If you haven't, you're in for a treat!
Please join us for an evening of music and laughter in support of a great cause!


​
---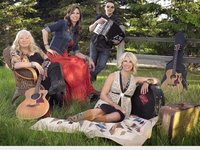 The Travelling Mabels - Wednesday, April 18, 2018 7PM (Doors open at 6PM) Tickets $25
The Travelling Mabels, Voted ACMA 2011 Group Of The Year, are a folk/country female trio full of spirit, spunk and laughter. Collectively, their songs bring a wealth of life experience to the stage. Singularly, each woman can vocally stand alone, but once you hear the combined harmony blend, you will know why these three women came together. The beauty of the Mabels is that they represent three generations of women, Eva Levesque, Lana Floen and Suzanne Levesque. This has opened the door to a dynamic energy both musically and in the rapport with the audiences that most wouldn't experience every day. And their band leader and 2012 CCMA keyboard player of the year, Keith Floen is outstandlngly awesome too! This group was here 3 years ago and they are one of our very favourites! We're thrilled that they are able to come back again. You will love them too!


---
Past performances:
Searson
- November 25, 2017

Joe Jencks
- September 15, 2017
Good Lovelies
- May 23, 2017
Teal & Joyce
- May 6, 2017
Stephen Fearing
- March 26, 2017
EyeTunes Benefit Concert for
CNIB
with
John Prince
,
Patty McLaughlin
,
Mary Bennet
, Jane Jacobs, Ginny Clements, Brian Colborne, John Caseley, John Savage, Hugh & Marion Kilvert, Gary Munshaw, Mad Hatterz Trio (Karen McCagherty, Jesse Longworth & Heather Piggott - January 28, 2017
Over The Moon
- December 16, 2016
​
Boreal
- November 26, 2016
Dirty Dishes
- September 24, 2016
Paul Rumbolt
- May 14, 2016
Patty McLaughlin
(with Ginny Clements & John Savage) - May 14, 2016
Sin and Swoon
- March 5, 2016
Angie Nussey
- January 16, 2016
EyeTunes Benefit Concert for
CNIB
with Lead Pipe Cinch,
Teal & Joyce
,
Patty McLaughlin
with Rosanne Speckert, Ginny Clements, Brian Colborne, Paul Snelgrove, Donna Gingras, John Savage, Hugh & Marion Kilvert - December 16, 2015
Rick Fines
&
Roly Platt
- November 21, 2015
Brother Sun
- October 23, 2015
The Marrieds
- June 6, 2015 for
Barrie Folk Society
The Travelling Mabels
- April 23, 2015
Suzie Vinnick
&
Roly Platt
- January 31, 2015
EyeTunes Benefit Concert for CNIB -
Mary Bennet,
Patty McLaughlin
and
Angie Nussey
- November 15, 2014
Adam Crossley
- October 18, 2014
Ennis
- September 19, 2014
Maria Dunn
- May 2, 2014 for
Barrie Folk Society
Lynn Miles
- April 18, 2014
Dave Gunning
- February 7, 2014
CNIB Benefit Concert -
Roy Hickling
,
Patty McLaughlin
with Brian
Colborne, Gary McLaughlin, Paul Snelgrove - November 23, 2013
Belle Starr
- September 27, 2013
Mark Reeves
- June 29, 2013
Ennis
- May 3, 2013 for
Barrie Folk Society
Chuck Baker
& Sarah Lichti,
Lead Pipe Cinch
,
Patty McLaughlin
- March 23, 2013
Valdy
(opening act: Tyler Knight) - March 7, 2013 for
Barrie Folk Society
Craig Cardiff
- January 27, 2013 for
Barrie Folk Society
Dave Gunning
- May 4, 2012 for
Barrie Folk Society
Suzie Vinnick & Rick Fines
- October 8, 2011 (Fundraiser for
Furry Friends
Animal Shelter)
Garnet Rogers - June 10, 2011 for
Barrie Folk Society
Rosalee Peppard
- May 5, 2011
The Marigolds
- April 16, 2011 for
Barrie Folk Society
The Human Statues - December 3, 2010 for
Barrie Folk Society
John Wort Hannam
- September 22, 2010 (
ArtsCan Circle
Fundraiser)
Soul Surfers - February 26, 2010 for
Barrie Folk Society
Suzie Vinnick
- November 20, 2009
Katherine Wheatley
- October 23, 2009
John Wort Hannam
- November 21, 2008 (
ArtsCan Circle
Fundraiser)
Angie Nussey
- September 5, 2008 for
Barrie Folk Society
The Good Lovelies
- February 16, 2008 for
Barrie Folk Society